Professional Essay Writing Help from Australian Subject Matter Experts
Is essay writing task giving you sleepless nights and shivers down the chill? Don't worry; the Instant Assignment Help Australia is right here for you! We are a renowned name in Australia for providing the best essay help services.
We have observed that students of every academic level are troubled with piling essay tasks that take away students' mental peace and give them anxiety.
They keep trying to give their best to draft impressive essays and score good grades but often fail. The main reason behind it is that they make mistakes and neglect them; thus, they are in trouble. Wondering the mistakes that make a student seek help with essay writing? Here they are!
Increase Your Odds of Success
With Our
Scholastic academic documents
Pocket friendly prices
Assured reliability, authenticity & excellence
5 Most Common Mistakes Students Make Which Lead Them to Seek Help with Essay Writing
Everyone makes mistakes in life. While some are forgiven, some are to be rectified. However, when such mistakes are not rectified on time, they can cost us. Let's relate this situation with essay writing; students make some mistakes and lose good grades in academics. Realizing this, the students seek essay help from subject matter experts, However, if you are wondering what those mistakes are, then here are a few listed below: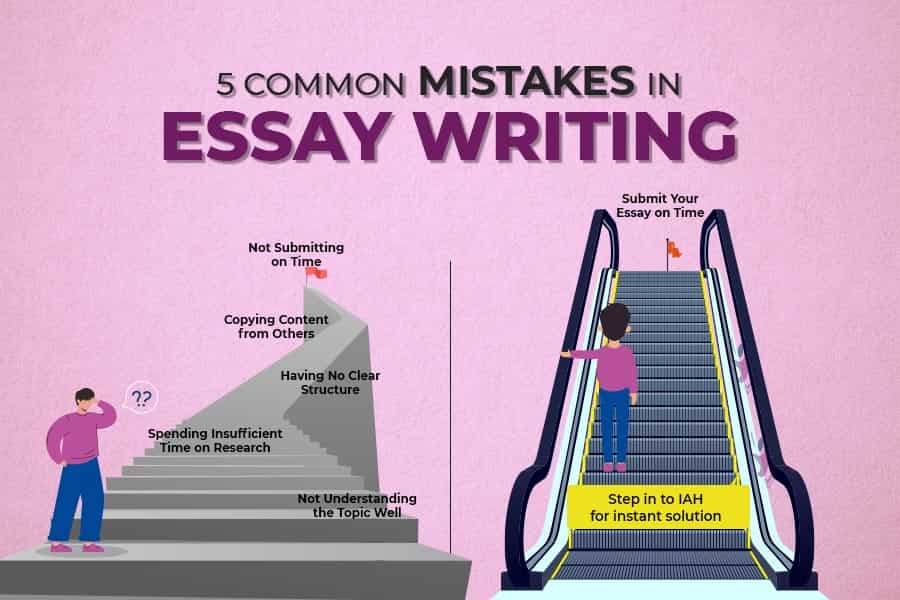 Not Understanding the Topic Well
Students often ignore the document's topic and get started with it only to realize that they shouldn't have done that. But on the other hand, whenever a student turns to our experts for essay writing help, we never jump to the writing part directly before understanding the professor's expectations from that particular topic.
Spending Insufficient Time on Research
The next common mistake students should stop making in their essay writing is, spending inadequate time on research. It is very important to spend a good amount of time collecting reliable and authentic information to impress the outcome. We are known as the best Australian essay writing service because we leave no stone unturned when researching any topic.
Having No Clear Structure
One more thing students often make mistakes with is, having no clear structure. When students write essays, they do not follow a pre-defined structure that confuses them later. The best thing about our help with essay writing is our writers are well-versed with the most appropriate structure for your document.
Copying Content from Others
This mistake is not less than a blunder. Students should never copy or plagiarize content from others as it can lead to rejection of the whole document. But out of hurry or unintentionally, they do this and get poor grades. If you seek our essay help services, you need not worry about this; we will write everything right from scratch to ensure there is no plagiarism at all.
Not Submitting on Time
Students are known for coming up with excuses for every task they didn't do. They either procrastinate, forget or don't feel like doing the task and miss out on the deadline. This can be the reason they get low grades in documents. If you need help with essay writing because you cannot dedicate time to it, we can happily get your work done before submission.
These are the five most common mistakes students make in their academics that result in scoring poor grades, and they turn to our experts for seeking the best essay writing help. Unfortunately, this is not it; students also have to face many obstacles during their essay writing process. Let's look into some of them for a better understanding.
Common Obstacles Students Face While Writing Essays in Academics
Everyone knows that essays are a crucial part of a student's academic life, but little do any know about the struggles students face while dealing with it. Here are some common struggles faced by students and how our Australian essay writing service providers can deal with them:
Complex Topics -
The first obstacle that the students need to face with this task is, dealing with complex topics. There are many things that a student already has to deal with, and in the midst of all this, if he is required to work on complex topics, he cannot dedicate enough time to it. This just leads to stress in him and impacts his quality of work. If you are also troubled because of complicated topics, then our essay help providers can effortlessly draft the document for you.
Strict Guidelines -
The next obstacle is the guidelines the professor and university are particular about. Unfortunately, students do not have much knowledge of these and sometimes accidentally miss them, making them redo the whole document or can't score a good grade. If you struggle to follow the guidelines, then our essay help providers can assist you.
Short Deadlines -
Another common obstacle in a student's life is that he is given short deadlines to complete the task that he cannot meet as he might have to prepare for exams, complete a part-time job, and be occupied with some other task. This again leads to poor grades in essays. But, on the other hand, if you seek our help with essay writing, we make sure never to miss your deadlines.
More obstacles like these come in a student's way to complete essay writing and score good grades. But, if you are also facing some, then don't worry; here's a sure-shot way to not end up in trouble and score the best grades- avail essay writing help from our professionals!
Our Mission is to Offer an Extraordinary Assignment help at Competitive Prices.
We believe in serving our customers with the most reliable assignment help
Struggling with Your Work? Seek Essay Writing Help from Us!
When it is about essay writing, students have to face many obstacles in it before it can be completed on time and in good quality. But, put a halt to your worries now and turn to Instant Assignment Help Australia.
We have a team of professionals, including the best researchers, writers, editors, and proofreaders, who can complete your essay in the best quality and get you good grades. This isn't it; you can also avail amazing discounts on our essay help services and avail some freebies like:
Free Title Page
Free Referencing
Free Editing
Free Proofreading
Free Unlimited Revisions
Free Plagiarism-Checking
These are some of the amazing perks of seeking help with essay writing from our experts. So, what are you still waiting for? Grab top-quality essays at the best grades NOW.
Don't Miss Our Special Offers