How to Write an Introduction for an Essay
While writing any type of essay, are you also riddled with the question, "How to write a good introduction for an essay?" if the answer is yes, then you will get exactly that in this blog. Our experts have heard your plight for help, and they are here to rescue you from your boring and repetitive essay introductions.
Through this blog, you will learnhow to write an introduction for an essay, the characteristics of a good essay, the structure of a stellar essay introduction and all of it with examples. So get ready to become a ninja of essay introductions with us.
What Makes a Good Introduction
Writing an academic document is not easy; it requires a lot of hard work and dedication; the same is true withessay writing. Every type of essay has different character traits; depending on your requirement, you will pick a type that most suits your needs. We will discuss the essay types individually in the other sections of this blog. But for now, the question remains what makes for a good essay. And the answer is in the quote by George Henry Lewes.
"The true function of philosophy is to educate us in the principles of reasoning and not to put an end to further reasoning by the introduction of fixed conclusions."
Your introduction should feel like a gust of fresh air that makes everything along its way refreshing and exhilarating. So now you knowan introduction to an essaywill have to be extraordinary and get you all the appreciation and grades from the professors.
For better clarity and understanding, here are a few pointers you should keep in mind while working on yourintroduction paragraph.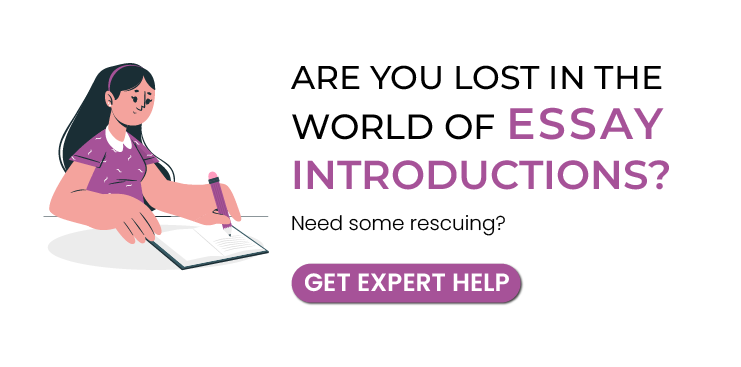 Goals of an Essay Introduction
Your essay introduction has a few set targets that it needs to achieve, there is no hard and fast rule, but without meeting these goals, your essay introduction will be kind of pointless.
Catch
This is as simple as it sounds; you must ensure that your essay introduction is catchy and can grab the reader's attention. You can use quotations, phrases, quirky facts, revealing statistics, etc. All of them will grab the attention of your reader. Do not go off the topic in an attempt to capture the reader's attention. Stay close to the home while pickingwords to start an essay introduction.
Motivate
To make the audience read your essay, you must specify why they should read it. Give your readers a solid motivation to read your essay introduction. This could be achieved easily by listing the number of benefits or things they will get by reading the essay. Think from the perspective of the reader, and you will be able to nail the motivation part of youressay structure.
Establish
While writing yourbody of an essayintroduction, make sure to build a connection with the audience. Apart from all the catchy and motivating factors in your essay, the reader will always be more tempted to read your writing if they feel strongly about it. Beginning with a credible source of information and establishing a sense of affinity with the audience goes a long way. You can also mention your level of expertise in the field and the experience you have with the topic.
Present
Always make your best effort in writing the thesis statement for your essay introduction because it will give the reader a clear view of what you are going to talk about in the essay.
Now you don't need to figure out on your ownhow to write a good essay; theexperts can guide you through the entire journey.
How to Write an Essay Introduction
If we were to explain what writing an essay feels like in one word, we would say liberating. That is because anessay writingtask gives you the means to present your own thoughts and opinions. And the fascinating part of the entire process iswriting an introduction of an essay.You can choose to be bold or timid, revealing or secretive. It all depends on how well your grip on language and the target audience's knowledge. So let's begin exploring the essay writing process, one step at a time, without further ado.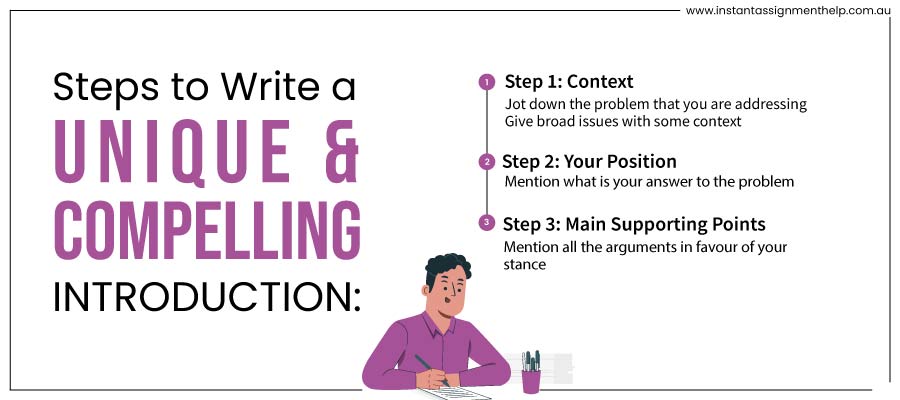 Study Your Topic Thoroughly
Before writing the introduction of an essay, understand your topic and get all your facts sorted. Take under consideration only the original and genuine source of information. Then, get the definitions and other relevant details sorted.
Settle on a Catchy Starting
The next step is figuring out the catchphrase for your introductory paragraph's opening. You can use anecdotes, quotations, statistics, clear misconceptions, vivid examples, confusing scenarios, thought-provoking questions, etc. Please do not use all of them at once because that will make a mess of your essay introduction.
Write the First Draft
Now that you are all clear with the information and the intent comes the part of writing down the elementary introduction. Remember that it is just a rough draft, so do not take too much pressure and let your creative juices flow freely. There is a lot of scope for changes in this draft.
Revise Your Writing
Lastly, go through your writing and make any necessary changes that you want. When you are satisfied with the final draft, begin the proofreading process. Make your essay introduction free from any grammatical errors.
Follow all these steps to create an excellent introductory paragraph for your essay. Then, who knows, you might make agood essay introduction examplefor your peers.
How to Create anEssay Introduction Structure
Whenever writing an academic document, it is necessary to follow an outline to the t. without a proper structure, there are high chances of your essay being rejected. To avert the risks of possible rejection and followed bad grades, our expert writers have created anessay introduction structurejust for you.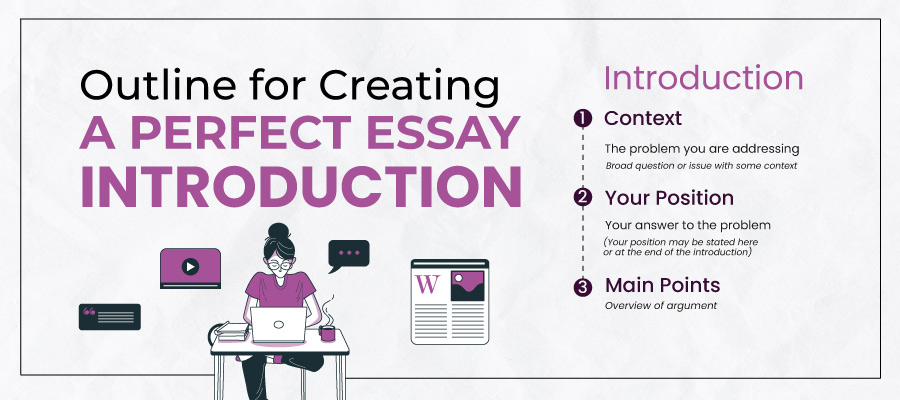 A Beginning that Grabs the Attention of the Reader
Your essay will be divided into four precise portions for the ease of achieving a perfect introductory paragraph. The first of them will be the eye-catchy start to draw your audience's attention. To accomplish that, you will have to be very innovative and think from a reader's perspective. Use anecdotes, quotations, clear up misconceptions, vivid examples, bemusing scenarios, thought-provoking questions, etc.
Clear and Accurate Background Information
Next up is background information on your chosen topic. Be very thorough with your research for the essay. When you write this part of the introduction, never be vague. Every piece of data should be authentic and related. There is no scope for unnecessary detail in this paragraph. For the purpose of your research, you must refer to original sources, be it primary or secondary.
Detailed Outline of Your Argument
Your topic will always have some main points crucial to the essay. Find all of them and note them separately. Now filter out the ones you feel are not that important in the grand scheme of your writing. Keep the ones that will give a refined and polished look to your essay introduction. Explain the points in one line, not more than that, as you don't want to make the essay introduction chunky.
A Crisp and Precise Thesis Statement
The last piece in the puzzle of a goodessay structure templateis the thesis statement. Simply put, it is a sentence that sums up your entire essay. It might sound easy, but in reality, it is not. Think of it as the gist of the document in one line! You will have to think real hard to be able to express precisely what your central theme is. Thethesis statement for your essaycan never be the title itself; no, no, sir. You will have to be a lot more creative and analytical to achieve a perfect statement.
With this, we come to an end of the answer to your query abouthow to structure an essay. Next up in this blog are some examples for you to go through. Take a thorough look at them and learn the minute details of language techniques and their application.
Famous Essay Introduction Examples
Every essay has an introduction, and it is up to you whether it turns out as a good essay introduction or a bad one. A lousy essay introduction is one that is unable to attract the reader's attention and has a poor structure. Thanks to ourhow-to write an essay introductionguide, you are not going to fail at the drafting the beginning of your academic essay documents. But here are somegood essay introduction examplesto learn and draw inspiration from.
Good Essay Introduction Examples
Practical application of things always makes it easier to understand the concepts. Here are somegood essay introduction examplesfor you to look at and study for your future reference.
We will begin with the famous David Sedaris's essay "Laugh, Kookaburra: A day in the bush, a night at home."
"I've been to Australia twice so far, but according to my father, I've never actually seen it. He made this observation at the home of my cousin Joan, whom he and I visited just before Christmas last year, and it came on the heels of an equally aggressive comment. "Well," he said, "David's a better reader than he is a writer." This from someone who hasn't opened a book since "Dave Stockton's Putt to Win," in 1996. He's never been to Australia, either. Never even come close."
By reading this essay, you can quickly figure out the use of analogies in your writing and how to build that connection with the readers. David Sedaris uses short sentences that are punchy to make an impact on the reader.
Next in line would be the marvellous E.B. White and his essays. Read the expert from "Once More to the Lake"
"One summer, along about 1904, my father rented a camp on a lake in Maine and took us all there for the month of August. We all got ringworm from some kittens and had to rub Pond's Extract on our arms and legs night and morning, and my father rolled over in a canoe with all his clothes on; but outside of that the vacation was a success and from then on none of us ever thought there was any place in the world like that lake in Maine.
E. B. White gives you a lot to learn from his reading; his essays are the epitome of sophisticated language that is readable. His words trigger the brain cells of the readers and force them to keep reading and never stop.
There are many such writers whose writing can beessay introduction examplesand a source of inspiration for you.
Tips for Writing an Essay Introduction / Tips for Writing an Introduction for an Essay
By now, you must be well aware of all the details that you need to know aboutwriting an introduction for an essay. All the basics are covered in the previous sections of this blog, now is the time for some unique and lesser-known secret tips. Knowing these will help you create engaging essay introductions.

Catchy Introduction for Different Essays
Our expert writers have created a knowledge base for you to make writing an essay introduction super easy. We have divided the tips into different essay-type categories. For each type of essay, we will provide you with a unique way of creating an introduction.
Persuasive Introduction
While writing an introduction for a persuasive essay presents the reader with a provoking thought that either you will try to convince them in favour or against off. By doing this, it is guaranteed that you will amuse them. Your audience will be intrigued to know what is true and what is not.
Descriptive Introduction
Descriptive essays are, in general, all about details, and that can turn boring at times. So to create some curiosity in the reader regarding your essay, you must try and through at them some new or desolate facts. They will be pretty surprised by this and will be eager to read your essay from beginning to end in the hopes of finding out the answer.
Exploratory Introduction
The nature of an exploratory essay is to dwell on some lesser-known topic and make the reader acquainted with it. So there are a lot of scopes to make the introduction quirky and attractive. If you still need to add an element of surprise for the reader, try to throw them a curve ball that leaves their mind blown. For this purpose, make a bold claim.
Comparative Introduction
Writing a comparative essay is all about discovering similarities and differences between your chosen topic. The main idea is to give the readers some lesser-known facts about the subject. Try starting with the information that you think is entirely new for the reader. This will make them curious to read further. You can also attempt to invoke other feelings like motivation, inspiration, surprise, fear, etc. All of this should be based on facts and facts alone.
Narrative Introduction
Narrative essays are primarily personal and have scope for you to create a connection with the reader. Make your story or personal experience more engaging. Try to pick on the target audience's pain points and build a bond with them. When you write honestly, there is an invisible link that you develop with the reader. They can associate and relate with you; it suddenly becomes a shared experience.
How to Dodge the Five Cliches of Essay Introductions
To bypass something, you need to have complete information about what it is that you need to avert. In the case of an essay introduction
The Alternative Introduction
It is the kind that is filled with vague and general information about the topic, and nothing is connected. The writer is unsure about the context and thus spins together whatever comes to the mind.
The Rehashed Question Introduction
This is where the writer, for the lack of better words and creativity, repeats the essay question in the introduction. There are no interesting elements no punchy lines in this type of introduction.
The Definition Introduction
Defining the topic is a requirement for an essay introduction, but that doesn't mean you have to start with it. If the reader needed a dictionary definition, they would have looked up the exact words.
The Beginning of Times "Introduction
A well-known and equally cliche essay introduction style is where the writer begins with the beginning of everything. It focuses on writing a general history of the selected topic that no one wants to read.
The Glorified Details Introduction
It is one of the hated introductions in the academic world, where the writer begins the essay by giving out the general detail of the document. Writing the name of the author, professor, institution, etc., will not attract the reader. It will simply annoy them.
Need Help with Writing an Essay Introduction
Writing is an arduous task in itself, butcreating an introduction for an essaydoesn't have to be! With the help of this blog, you are well equipped with the tools to formulate an essay introduction that is a cut above the rest. But in case you need some guidance on the matter, feel free to contact our experts at Instant Assignment help Australia.
We do not expect you to take our help because we are asking you to. Instead, we will provide you with numerous reasons to seek our assistance with all yourhow-to write a good essayqueries. And here goes the list of guarantees:
24*7 Customer Support
Free Unlimited Essay Revisions
Timely Delivery of Your Essays
Free Referencing Page
Quality Essay Content
Freebies
In-depth Research
Zero-plagiarism
Free Turnitin Report
Money-Back Guarantee
And not just that, we assist students with all types of essays. Alongside that, we cover over 250 subjects. Students can reach out to Instant Assignment Help Australia, and it is sure that they will receive the best essay help assistance.
So what are you waiting for now? Take advantage of the vast knowledge of our experts right away.
Contact Essay Experts NOW!
FREE Features
Topic Creation

USD 3.87

Outline

USD 9.33

Unlimited Revisions

USD 20.67

Editing/Proofreading

USD 28

Formatting

USD 8

Bibliography

USD 7.33
Get All These Features of
USD 80.67FREE
Don't Miss Our Special Offers