Are you assigned to write an essay by your professor and confused about how to write it? You may have just found the right place to get some expert advice that may be of help.
When you are writing an essay, you follow the set structure of the introduction, body, and conclusion. These are different sections and the most content is covered in the body. But, do you know the body parts have their structure too? Interesting right, they use the TEEL paragraph structure to keep the content easy to follow. If there is no structure, it becomes too cumbersome and confusing to read. This reduces the quality of your essay and results in downgrading by the mentor.
This blog will give you some insight into this structure and explain its importance for developing essay writing skills. So, the next time when you have an essay writing task, you may employ them to improve your document.
What Is TEEL Paragraphs Structure in Essay Writing?
It is a short form of the basic structure of a body paragraph. It requires one to write in a set format so that the readability of the document increases. This also results in inefficient dissemination of information in the most compact form. Let's break this down into its individual sections.
T for Topic Sentence: It is the first sentence of the paragraph which sets the agenda of the whole para. It gives you the main idea of what to expect inside the para. It contains the claims that will be settled after the writer is done with the whole section.
E for Explanation: This section contains an elaborate description of your claim or topic. One must write in detail about your opinion on the subject. You should touch upon all the aspects of the topic and express themselves in detail. The reader must understand the subject completely from this section. They must also get a full sense of your stand on the topic and gets eager for your support documents.
E for Evidence: When you have argued your stand so passionately, you are required to provide evidence supporting your claim and statements. This requires one to only make claims that they can prove using evidence. If you have made false claims in the explanation section and don't have evidence to produce, your essay will fail the test. That's why it is important to maintain its structure.
L for Link: It summarizes the whole paragraph and creates a link between all other sections. It gives you the conclusion emerging out of the whole discussion and explains its importance to the reader. This helps them understand that the time that they gave to read the document was worth it. A link should be short and to the point highlights of the whole body paragraph.
Comment: It is also an important part of any essay but is left out of the acronym because it doesn't fit there. As we are discussing the structure of a body paragraph, we must mention it. It contains your comment on the events or topics discussed above. It gives the reasons for and possible outcomes of the events based on the evidence provided above. It is also suggested your opinion on how the situation can be altered. This section is important because it is opinion-based rather than based on facts.
These are the 4-5 most important sections of a TEEL paragraph. You can understand it better with an example. Let's take a look at this example and identify each section in it.
You May Also Like: How to Write an Argumentative Essay | A Beginner's Guide.
Example of TEEL Paragraph Structure in a Sample Essay
Example: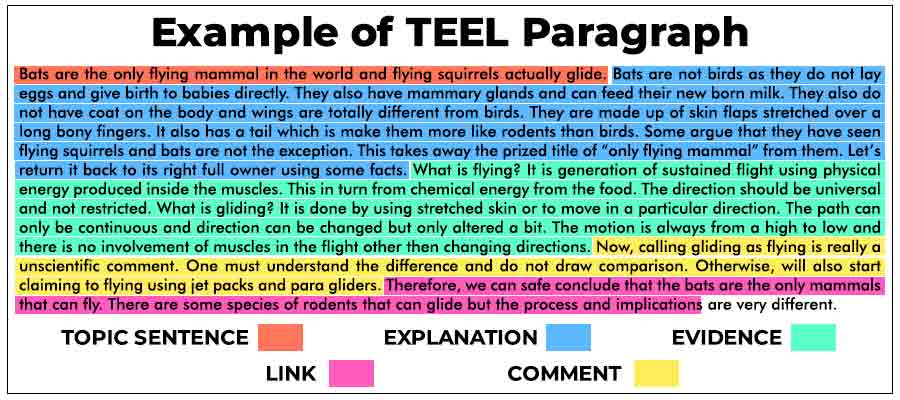 You can study this example to understand all the sections of a body paragraph. They have been highlighted to help you understand individual sections separately. The structure is simple to understand and can be created with ease if one follows all the rules religiously. One should keep the focus on the topic sentence while moving from explaining it. Then, providing evidence for the claim and writing down the summary in the end. This is the whole structure of a body paragraph in TEEL structure.
Now that you have understood the structure, we can look at the usage of it in helping students develop new writing skills.
Students Also Look For: Holmes Blackboard | A Detailed Guide
Why Is TEEL Paragraph Structure Used in Essay Writing?
There are several formats in which one can write an essay. Students don't even think about the structure and ram down whatever that comes to mind on the paper. It is important that they understand the benefits of writing in a structured way. There are many advantages of writing in a flow and keeping sections according to a set format. Here are some benefits:
Helps in Understanding: It helps you understand the text better. When you explain a topic and then give supporting evidence, it makes the reading get your point easily. If you mix up your information, things shared earlier may get lost in thoughts and one has to go back to read it again. This creates distractions for the reader and they may lose interest.
Keeps It Short: An essay is not a long document in its basic form. One needs to put out its thoughts in this concise manner using the research evidence. This structure helps in achieving that as the flow is sequential and the points can be made with the help of the research provided.
Makes the Argument Strong: A document that is lengthy has to explore many nuances related to the topic. An essay is a compact form of that document but it too has to provide a strong argument. The compact nature and precise content give an ample opportunity to the writer to present its thoughts on the topic in a focused manner. This help is creating a strong argument as long documents may get skimmed over some time but an essay can be read properly in a few minutes. The points expressed with intentions of making the reader understand hits the target before a person gets bored with the reading or gets distracted.
Improves You Arguments: This structure helps you frame your thoughts around a topic in a focused manner. You have the evidence and you have your statement, now you have to create an argument that delivers to the other side. It allows a student to convey their view of certain topics using research evidence. This helps you improve your arguments on a certain subject and defend your stand better.
Makes You Ready for Lengthy Documents: As you will be writing much bigger documents, a TEEL paragraph structure helps you understand the purpose of it. It makes one more disciplined while writing and shifts the focus on information rather than writing skills. This helps you create documents that are more complex but follows the same structure when you look up close.
The purpose of a TEEL paragraph is to make an essay more reader-friendly. It also helps the writer express himself in a compact manner which has a better impact on the reader rather than lengthy documents. There is a need for better essay writers in the students' fraternity as many topics that are needed to be addressed are going unanswered.
Students need to revive the habit of writing on the topics that are impacting their present well-being and address them using this tool. The structure is so minimal that it seems that anyone can write. Professors are also providing students with progressive topics to help them learn about the times that they live in.
This Might Interest You: 100 Creative Writing Prompts: Apt for All Types & Themes
Why are TEEL Paragraphs of Instant Assignment Help Australia Admired by Essay Writing Help Seekers?
Students have many activities to attend to in a single day. This means that they have less and less time to invest in forming a TEEL paragraph structure for essay writing. They simply run through the topic without any structure and create a mess that is unreadable to even themselves. Just, how much hope might be left for information dissemination. This may result in a huge loss in grades.
This requires them to look for a professional essay writing service that can take care of the structure along with the information quality. One of the most trusted services by students is Instant Assignment Help Australia. We have been working to help students for a decade now and rated highly because the service has maintained an array of features that others can't offer. Some of the salient features of our services are:
24*7 Customer Support
Free Topic Suggestions
Professional Essay Writers
Unlimited Free Revisions
100% Plagiarism-Free
Quality of Work
Quick Delivery
Research Quality
These are some of our features. There are many other qualities that make our services stand tall above others. The professionalism of our writers and quality of work can be seen in the reviews we get from the students. It is a matter of pride for us to maintain the standards of our work and keep working for the benefit of the students.
You may also like to read:
FREE Features
Topic Creation

USD 3.87

Outline

USD 9.33

Unlimited Revisions

USD 20.67

Editing/Proofreading

USD 28

Formatting

USD 8

Bibliography

USD 7.33
Get All These Features of
USD 80.67FREE
Don't Miss Our Special Offers